The Heart Award
LondonOntarioSports.com is an involved member of the London community, and a proud supporter of our charity of choice: Heart & Stroke.
In 2011, our partner publication, LondonOntarioGolf.com – now fully published here at LondonOntarioSports.com – decided to honour a member of the local golf community who over the years has unselfishly given back to the game, while helping it grow. Our winners are: Mike Olizarevitch (2011); Fred Kern (2012); Patty Howard (2013); Mike Weir (2014); East Park Golf (2015); Bob Martin (2016); Mike Silver (2017); Lindsey Edmunds (2018); Rene Muylaert (2019); and Steve Bennett (2020).
About the London Ontario Golf Heart Award
The London Ontario Golf Heart Award recognizes a London & area community member who helps grow the game of golf. LondonOntarioGolf.com publisher and editor Jeffrey Reed created the award in 2011 in order to recognize a community member who gives back to the game through unselfish efforts. Each June, the Heart Award recipient, as selected by the editors of LondonOntarioGolf.com, honours those within the categories of golf professionals/instructors, golf mentors, golf course owners/operators, golf course architects/designers and members of the media. June is Stroke Awareness Month. Heart & Stroke is the Official Charity of London Ontario Golf.
2011 Mike Olizarevitch
Long-time local golf industry member Mike Olizarevitch is the inaugural winner of the London Ontario Golf Heart Award, given to those who go beyond the call of duty in helping grow the game of golf. Olizarevitch, 65, is the first winner of the annual London Ontario Golf Heart Award, chosen by the editorial team at LondonOntarioGolf.com – proud supporter of the Heart & Stroke Foundation of Ontario. Olizarevitch retired in 2009 after 49 years at Fanshawe Golf Club in London, where he was head professional for 39 years. This year, he joined his daughter, Kim Shaw, and son-in-law, Andy Shaw, to help operate Dorchester Golf Club. Andy and Kim purchased the club this spring, following Andy's 17-year career with the City of London golf courses. In its 7th year, LondonOntarioGolf.com is owned and operated by long-time London-based journalist Jeffrey Reed. Olizarevitch was the only choice as this year's Heart Award recipient. He was Reed's pro when the publisher and editor was a junior member at Fanshawe Golf Club, and he always give unselfishly of himself, making the golf experience an enjoyable one. Without that encouragement, Reed may not have pursued his passion for golf. In addition, Olizarevitch's vision in creating the Parkside Nine at Fanshawe Golf Club – North America's first golf course specifically designed for the physically challenged – strengthens the fact he is much deserving as the inaugural Heart Award recipient. The Parkside Nine allows stroke suffers, those affected by heart disease and anyone who is phyicially challenged to still enjoy the game of golf. Reed's father, Ken, suffered a stroke in 2004. During his post-stroke therapy, he was able to return to golf at the Parkside Nine. Without the Parkside Nine, he would not have had the opportunity to golf again. In 1998, Fanshawe Golf Club opened the Parkside Nine after Olizarevitch envisioned turning a small parcel of land into a golf course for those who couldn't golf at a traditional course. He said, "The physically challenged play basketball and ski, so why not golf?" Olizarevitch volunteered at London's Parkwood Hospital where a 3,000-yard putting green had been developed for rehabilitation and therapy for spinal cord and wheelchair-bound patients. Olizarevitch had struck up a friendship with Lise Thibault, former Lieutenant Governor of Quebec who had been in a wheelchair for four decades. She visited Olizarevitch for a lesson in 1998 and called the Parkside Nine "a model for other municipalities." In 2002, the Ontario PGA named Olizarevitch its first Humanitarian Award winner for his efforts in designing the Parkside Nine. Olizarevitch's golf passion began in 1958, when he took $10 from his newspaper route savings to purchase a junior membership at Fanshawe Golf Club. He joined the grounds crew in 1963, was named assistant pro in 1965, and in 1970 replaced Bill Fox as head pro – a post he held until 2009. By age 50, Olizarevitch had amassed 66 tournament titles. In the days of persimmon drivers, Olizarevitch was known as London and area's most skilled backshop expert, repairing and regripping clubs for countless golfers in southwestern Ontario. At Dorchester Golf Club, he left retirement to cut grass, handle maintenance and teach lessons – including lessons with the Dorchester Junior Golf Academy. Olizarevitch has mentored many local club pros, including PGA of Canada Master Professional Bruce Atkins of London's Echo Valley Golf Club. Sunningdale Golf & Country Club's former director of golf, Patty Howard, called her long-time friend Olizarevitch "a dedicated professional."
2012 Fred Kern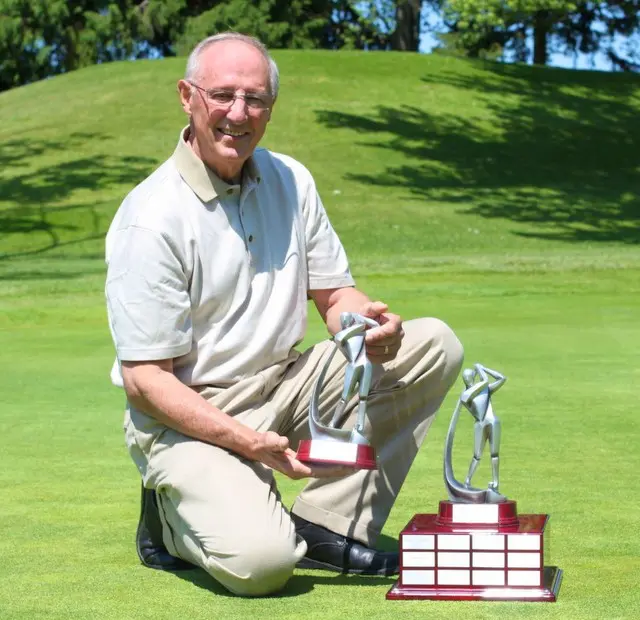 Long-time local golf industry member Fred Kern, 72, of London is the second winner of the annual London Ontario Golf Heart Award (est. 2011), chosen by the editorial team at LondonOntarioGolf.com – proud supporter of the Heart & Stroke Foundation of Ontario. A member of the PGA of Canada since 1960, Kern was born in Rolandia, in the state of Parana, Brazil. When the family moved to Toronto in 1955, Fred and his brothers Mario, Ben, Benny and Greg started playing golf at Credit Valley Golf & Country Club in Mississauga. Ben, who died in 2002, was an All-America golfer, PGA Tour pro and 20-year pro at the National Golf Club in Toronto. As a teenager, Kern caddied at Mississauga Golf & Country Club. He cleaned clubs at Credit Valley G&CC, and was later assistant pro from 1959-1965. Kern was teaching pro at Northwood Golf Course in Toronto in 1966; associate pro at Markland Woods Golf Club in Toronto 1967-68; then head pro at Oakville's Glen Abbey Golf Course 1969-70. At Glenn Abbey GC, Kern – and accomplished landscape artist – designed the original logo of a monk swinging a golf club. Kern was head professional at London's Thames Valley Golf Club from 1971-2007. "I was awed by the beautiful setting," said Kern upon his first visit to Thames Valley GC. "I thought, what a perfect setting to introduce new golfers to the game." In fact, Kern's biggest contribution to the game of golf was operating the Junior Tyson Tour from 1978-2009. Founded in 1968 by former London Free Press sports writer, Bev Tyrrell, the Tyson Tour name comes from the Ty in Tyrrel, and Tyrrel's twin sons, Tim and Tom. Mike Weir, who captured back-to-back Les Thomas tournaments (Tyson Tour annual opening events) in 1986-87, said he has fond memories of "playing Thames Valley … playing junior events and Tyson Tour events. I had a great experience. It's a great tour. I know it's still going strong." Kern was also a mentor to many local pros, including Bruce Atkins (Echo Valley GC) and Patty Howard (Sunningdale G&CC) – two of his first assistants, as well as Justin Fairchild, Bill Fox Jr., Graham Hegler, Gil Parkinson, Dave Schweyer, Debbie Stevens and Marc Webster. A two-time competitor at the Canadian Open, Kern captured the London and Area PGA Championship in 1972, was CPGA Junior Teacher of the Year in 1996, and London Sportsperson of the Year in 2004. "Fred also won many London Mini Tour events," said Olizarevitch. "He was an excellent teacher and a guy who was dedicated. Fred has certainly done a lot for kids over the years." When he's not painting or writing (including penning a book on the Kern family), Kern and his wife, Dolores, enjoy travelling and spending time with their three children: Fred Jr., 42; Paul, 40; and Melissa, 38. They spoil their three grandchildren, too: Ethan, 9; Julia, 8; and Abigail, 3. Dolores enjoys making quilts, while Fred can be found golfing and gardening. A long-time painting project involves using oil and water colours to paint scenic local landscapes and golf holes at Thames Valley GC. "I wish to thank Jeffrey for honouring my commitment to golf with the Heart Award," said Kern. "I have been fortunate to be able to work in a game and industry that I love."
2013 Patty Howard
Patty Howard, director of golf at London's Sunningdale Golf & Country Club, is the winner of the 2013 London Ontario Golf Heart Award. A member of the PGA of Canada since 1975, Howard is widely considered one of Canada's most knoweldgeable and personable golf professionals. A member of the London Sports Hall of Fame (2009), Howard was Canada's first female head professional at a private mixed club (West Haven Golf & Country Club 1990). Her numerous accolades include Club Professional of the Year (PGA of Canada, PGA of Ontario 2007), and Women of Distinction Award – Sport, Fitness & Recreation (2001). Howard oversees the full scope of golf play at Sunningdale Golf & Country Club. "It is truly an honour to receive this award, especially amongst so many worthy candidates in our community. Being honoured in the city I grew up in is truly amazing. I feel blessed to have been able to make a career out of the sport I love," said Howard.
The following story was written by Jeffrey Reed upon Howard's retirement announcement in January 2014:
Those who dedicate their lives to the golf industry often joke that there's never enough time to golf. In the case of London's Patty Howard – recently retired from her post as director of golf at Sunningdale Golf and Country Club – there is also the challenge of living with arthritis which often makes golfing an impossibility. But Howard, 60, says she's feeling well these days, and looking forward to finally being able to golf, now that she has hung up her cleats after a distinguished 40-year career. A member of the PGA of Canada since 1975, Howard is widely considered one of Canada's most knowledgeable and personable golf professionals. A member of the London Sports Hall of Fame (2009), Howard was Canada's first female head professional at a private mixed club (London's West Haven Golf & Country Club 1990), and she was the first female member of the Ontario PGA Board of Directors (1985-86). Howard's accolades include Club Professional of the Year (PGA of Canada, PGA of Ontario 2007), Women of Distinction Award – Sport, Fitness & Recreation (2001), London Sportsperson of the Year (2008), and London Ontario Golf Heart Award winner (2013). Despite her post at Sunningdale, Howard says she was "semi-retired starting in 2010." But anyone who knows Howard knows she can't do anything less than 100 per cent. Long days at the club – in particular during 2013 when Sunningdale hosted numerous tournaments, including the PGA Tour Canada Tour Championship – were taking their toll on Howard. So was the fact she couldn't golf – even when she was feeling well enough to tee it up.
"It's definitely bittersweet, and it's a hard decision, but this past summer I had thought pretty seriously about retirement," said Howard, who hands her duties to Sunningdale head professional Jason Wyatt. "For the last four or five years, it really has been a rollercoaster," said Howard of crippling arthritis. "I went through a lot of pain, until I found (new drugs). I'm feeling well now, but unfortunately there are side effects. I never know in advance how well I'm going to feel." No longer putting in grueling days at Sunningdale, where she oversaw the full scope of golf play since 2001, Howard finally has the opportunity to golf when she's up for it. She and her husband, Dave Reid, are preparing for a winter stay in Port St. Lucie, Florida where you can bet there will be plenty of days on the golf course. Howard has a heavy heart today, though. Her father, Alex Fellner, died January 11. He was an avid golfer, long-time Sunningdale member and a founding member of the London Home Builders' Association. Howard paid a touching tribute to Alex during her Heart Award acceptance speech in June 2013. A Class A golf professional since 1981, Howard has worn every golf hat under the sun. She has worked as a groundskeeper, and played professionally on the U.S. Futures Tour – she won twice with three second-place finishes. In fact, Howard is the only female to have won on the Southwestern Ontario Professional Golfers' Association (now PGA of Ontario) mini tour, shooting a 65 to beat the area's top male pros. She once held the women's course record (70) at The Oaks Golf Club in Delaware, and posted a women's course-record 73 at The National Golf Club of Canada to claim victory at the 1988 Ontario Ladies Professional Championship. "Sunningdale is where I grew up – where I first learned to play golf," said Howard, obviously finding it fitting that she would retire while at the north London private club. "It has been quite an interesting career." It has at that. Howard will definitely be missed, but here's hoping we see a lot of her on the links in 2014.
2014 Mike Weir
Born less than an hour west of London in Bright's Grove, Weir honed his skills under former coach Steve Bennett's watchful eye at Huron Oaks Golf Club. Weir won the 1986 Canadian Juvenile Championship, 1988 Ontario Junior Championship, and the 1990 and 1992 Ontario Amateur Championship. In 2010, he was inducted into the Ontario Golf Hall of Fame. A graduate of Brigham Young University, Weir was the Canadian Tour (now PGA Tour Canada) Rookie of the Year in 1993, and Order of Merit winner in 1997. In 1999, Weir won his first PGA Tour title at the 1999 Air Canada Championship with a two-stroke victory over Fred Funk, becoming the first Canadian to win on Tour since Richard Zokol won the 1992 Greater Milwaukee Open, and the first Canadian to win on native soil since Pat Fletcher won the 1954 Canadian Open. Weir emerged as one of the game's brightest stars with his 2003 Masters Tournament victory, a dramatic playoff win over Len Mattiace. His breakthrough year on the PGA Tour earned him the 2003 Lou Marsh Trophy as Canada's top athlete of the year, and the Lionel Conacher Award, given to Canada's top male athlete of the year, an award he previously won in 2000 and 2001. In total, Weir has won eight times on the PGA TOUR, has competed as part of five Presidents Cup squads, and six times competed in the World Cup of Golf. On a national level, Weir's success and contributions through charitable work have attributed to two Order of Canada inductions (2007, 2009). In 2009, Weir was inducted into the Canadian Golf Hall of Fame. Weir has used his success as a professional golfer as a platform for helping other families in need with the creation of the Mike Weir Foundation in 2004. Mike launched a national fundraising program through his foundation, called the Mike Weir Miracle Golf Drive for Kids, supporting Children's Miracle Network. The first Mike Weir Miracle Golf Drive tournament in 2007, held at Sunningdale Golf and Country Club in London, raised $562,000 for the Children's Hospital of Western Ontario. Since 2007, the Mike Weir Foundation and the Mike Weir Miracle Golf Drive for Kids has raised about $7 million for Children's Miracle Network partner hospitals.
2015 East Park Golf Gardens
For more than 50 years, East Park has been one of London's busiest breeding grounds for beginner golfers honing their skills from tee to green. Affordable golf plus a myriad of family activities makes the southeast London fun spot one of the city's most active sports and leisure hotspots. And for more than half a century, East Park has given back to the community through fundraising and charitable donations. More than 75,000 people visit East Park each year, many of whom challenge one of London's most popular 18-hole golf courses, play its two 18-hole miniature golf layouts and practice at its driving range. Founded in 1963 by a group of prominent Londoners, East Park is operated by managing partners Neil Kapp, Alon Shatil and Ian Stone, who celebrated East Park's 50th Anniversary in 2013. It's a good bet that more youngsters started playing golf at East Park than at any other London golf club. In fact, you would be hard pressed to find another local golf course which has shown as much heart over the past half century as has East Park Golf Gardens, the recipient of the 2015 London Ontario Golf Heart Award. This year marks the first time a group receives the annual award, which recognizes members of the London and area golf industry who unselfishly give back to the game of golf. More youngsters – including Jeffrey Reed – started playing golf at East Park than any other London golf club. And despite its heavy play, East Park boasts one of the area's best manicured golf courses – a testament to how serious Kapp, Shatil and Stone are about providing a top-notch golf layout for not only youngsters and their parents, but also for people of all ages and abilities. Concurrently, East Park has been heavily involved in helping local charities for more than 50 years. It's a tradition today's owners continue. "We are honoured to have our name alongside past winners, including the 2014 winner, Mike Weir. We take great pride in the fact East Park is synonymous with family fun, and a big part of that is our golf component. But giving back to the community through charity is just as important to our corporate climate," said Kapp, Shatil and Stone. They added, "With the Heart Award bringing attention to Heart & Stroke Foundation, we are thrilled to share this award with our staff, who go the extra mile to provide family fun which in turn promotes physical activity and healthy living."
2016 Bob Martin
In the winter of 1963, Londoner Bob Martin moved his golf retail outlet from the East Park Golf Gardens pro shop to a tiny basement store at 609 William Street in London. The move marked the beginning of making Bob Martin a household name within every Canadian golf community. A pioneer with a big heart, Martin worked closely with London homebuilder Roy James, a member of the East Park founding group, as the new leisure hot spot prepared for its 1963 opening. Chuck Brown's Golf Shop in Ottawa was the first off-course golf retailer in Canada; Martin's was second. In 1978, Martin left his post as East Park managing golf professional, and opened his off-course shop year-round. He operated Bob Martin's Golf, and later Bob Martin's Golf and Fashions, until he sold his business in 2002 – three years before Bob's Range opened on Wonderland Road South. During his 55-year career (he was assistant golf pro at Sunningdale Golf and Country Club from 1957-60), Martin has never stopped reinventing himself, all the while supporting endless local charities. He has given away thousands of free golf clubs to junior golfers, and continues to work tirelessly as an ambassador for the game. Between running his William Street shop under his own name, Martin did business with the Nevada Bob's franchises, was part-owner of Oakville SportDomes, and operated the Wally World golf range with the Spivak family from 1999-2003. Since the late-1990s, he has teamed up with senior long drive competitor Ron Lampman of St. Thomas, and today London golf instructor Derek Highly as part of golf exhibitions and clinics. Martin also supports junior golfers through summer camps and continued philanthropic efforts. Today, Martin and his wife, Kathy, are proudly supported by their daughter, Jennifer, and her husband, Mike Stoner. Without a doubt, Bob's grandson, Griffin, will always have a golf club in his hands, courtesy of his grandfather.
2017 Mike Silver
Silver retired in January 2017 after 39 years as director of golf at Highland Country Club in London. One of the most beloved members of the Southwestern Ontario golf industry, Silver now holds the title, Highland CC golf pro emeritus, and fills an ambassador role which includes assisting in the promotion and operations of the Mackenzie Tour PGA Tour Canada's Freedom 55 Financial Championship at Highland. A native of Copper Cliff near Sudbury, Silver started golfing at age 5. He joined the Highland staff in 1977, and since then has not only mentored hundreds of others while also investing in junior golf, but also has run his Highland Cares For Kids Charity Classic golf tournament for 38 years. PGA of Ontario Golf Professional of the Year in 2000, Silver has been a PGA of Canada member since 1971. He was awarded Master Professional status in 1998, writing his thesis on, Maintaining Playing Ability, and Maintaining Playing Ability for Seniors. There have been endless highlights for Silver during his lengthy career, including playing with Arnold Palmer at the Labatt International in 1981. In 2016, he finally shot his age, posting a 66. Today, Silver lives in London with his wife, Margaret.
2018 Lindsey Edmunds
Lindsey Edmunds, 34, along with her father, former Western Mustangs women's golf coach, Alan Edmunds, founded the Western University Mustangs women's golf program in 2002. Without school funding, and with no Ontario University Athletics (OUA) women's golf, Lindsey arrived at the idea of establishing a women's division within OUA men's golf tournaments. Today, a highly-successful Mustangs women's team competes within a separate OUA women's division, and competes nationally at Golf Canada-sanctioned tournaments.
Upon graduation from Western in 2005, Edmunds joined golf's professional ranks, but in 2008 she suffered serious injuries after being hit by a car at a crosswalk while she was jogging in London. She was treated for whiplash, dislocated ribs, a severely sprained left ankle and a contusion to her right knee which later saw a blood clot develop, requiring surgery. With dreams of playing on the LPGA Tour gone, she was unable to walk the course for four nearly four years. Her first time walking during a round was in 2012 at the inaugural Manulife Financial LPGA Classic at Grey Silo Golf Club in Waterloo, where she competed on a sponsor's exemption. In 2010, Edmunds joined Nike Golf as Southwestern Ontario equipment and apparel sales and fitting representative. At the time, she was the only female equipment rep in Canada. With Nike's golf focus solely on apparel today, Edmunds continues to represent the brand made famous by Tiger Woods. Clearly, LondonOntarioGolf.com is proud to name Lindsey Edmunds as the 2018 winner of the Heart Award. It's amazing how much she has accomplished at such a young age – not only as a mentor, and as a trailblazer in establishing the Western Mustangs women's golf program, but also in fighting back after devastating injuries. For those reasons, and because of her ground-breaking role with Nike Golf, we are thrilled to be honouring Lindsey with the 8th Annual London Ontario Golf Heart Award. And in sharing Lindsey's story with a larger audience, she will continue to inspire others.
2019 Rene Muylaert
Golf course designer Rene Muylaert, a Strathroy native who died in 2005 at age 69, is honoured posthumously as the 9th winner of the London Ontario Golf Heart Award, and the first winner in the category, Golf Course Architects/Designers. In total, he designed almost 50 Ontario golf courses, and was enlisted to design additions and renovations at numerous other Ontario clubs. Rene's twin Brother, Charlie, partnered with him for about two decades – Rene designed the course layouts, while Charlie managed day-to-day construction at Green Par Golf Construction. Charlie died in 2015 at age 79. The brothers grew up on a tobacco farm near Strathroy, and later fell in love with golf course design in the late-1950s. Rene specialized in creating golf courses on small acreage in Ontario, and often worked with owners who boasted small budgets. In addition, Rene was a much-in-demand designer of course additions and renovations. Yet as talented as he was, Rene Muylaert was perhaps the most unassuming Canadian golf course architect who ever lived. London and area courses amongst Muylaert's impressive resume include: Bear Creek Golf and Country Club (Strathroy) redesign; Echo Valley Golf Club (London) restorations; Greenhills Golf Club (Lambeth); Highland Country Club (London) restorations; London Hunt and Country Club (London) bunker renovations; West Haven Golf and Country Club (London); City of London municipal golf system (more than 30 greens designed); and his pride and joy, The Oaks Golf Club (Delaware). Oaks superintendent Rick Perrault worked with Rene as he designed the 1993-opened Oaks course, a par-72 championship course built on the sandy banks and bluffs above the Thames River valley. Said Perrault, "Rene was a quiet gentleman in the golf architectural world, yet he left a huge footprint on golf courses across Southern Ontario. He approached each new project as an opportunity to design an enjoyable, playable golf course that fit into the existing landscape. His name may not be recognizable outside of Ontario, but his contributions to golf in our region is remarkable. For those of us whom were fortunate to work with Rene and understand his passion and love for golf course design, we were truly lucky."
2020 Steve Bennett
City of London municipal golf system manager Steve Bennett is the winner of the London Ontario Golf Heart Award for 2020. Bennett is the 10th winner of the Heart Award (est. 2011), which recognizes a member of the Southwestern Ontario golf community who has unselfishly helped grow the game of golf. LondonOntarioGolf.com is proud to add Steve's name to the list of distinguished winners from the past decade. He's a champion of junior golf, a consummate golf professional and has been a mentor to scores of associate pros during his illustrious career. And it's fair to say, he is one of the most beloved members of the Southwestern Ontario golf community. "A golf club is like a small village," said Bennett. "You get to know people on a day-to-day basis, and you try to make their day at the club an enjoyable experience. There's also merchandising, which I love. But I only do what a golf pro is supposed to do. So it's very humbling that I would even be considered for the Heart Award." A PGA of Canada professional since 1978, and a member of Team Titleist for 24 years, Bennett, 61, joined the City of London's golf staff in 2010, and in 2016 took the post of convenor for the Junior Tyson Tour (est. 1968), Canada's oldest continuous junior golf tour. The Gov, as he is affectionately known by the Canadian golf community, was born in Seaforth, Ont., and played his first game of golf at Seaforth Golf and Country Club (now Seaforth Golf Club) at age 11. He began his career as assistant golf professional at Canterbury Golf Club (now Huron Oaks Golf Club) in Bright's Grove, Ont. in 1978, was named head pro at Canterbury in 1981, worked as head golf pro at Sarnia Golf and Curling Club from 1993 to 2003, then returned as head pro at Huron Oaks in 2004 until he took his current post in London. Bennett is best known as Mike Weir's coach when the 2003 Masters Tournament winner began his junior golf career at Huron Oaks during the early-1980s. "As a young kid playing at Huron Oaks, it was great having the opportunity to play with the Gov," said Weir, who joins the Champions Tour in May. "He was such a good player, a great short-game player, with a great wedge game – that is what I learned most from him. Without a doubt, that rubbed off on me. And the Gov has always cared deeply about junior golfers – and it wasn't just me, it was all of the juniors at Huron Oaks." Bennett also gave Weir his first job – working in the back shop and at the range at Huron Oaks. Said Weir, "I spent more time chipping balls back onto the range and working on my pitching game than doing actual work. But he still gave me shifts because he recognized I was passionate about the game. And whenever we had time, he would help me with my short game." A champion of junior golf, and a long-time supporter of numerous charities tied to the game, Bennett now sees his name engraved alongside Weir's on the London Ontario Golf Heart Award.