Reilly Records Around The Corner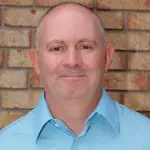 Feature: Reilly Records Around The Corner
by Jeffrey Reed, Editor, LondonOntarioSports.com
Kitchener Panthers slugger Sean Reilly joined the 1997 Hamilton Cardinals as a much-heralded IBL rookie. I was operating the league media relations office, and received a call from then team owner Brian Hanson, who spoke highly of his new recruit.
"I've got this new kid, Sean Reilly, who's going to be the talk of the league," Hanson told me prior to the '97 season.
Boy, was he right.
Yet that rookie campaign was not a memorable one. Fresh from two years of rookie ball as a pitcher with the Minnesota Twins, Reilly went 1-7 with a 6.52 ERA, collected 45 strikeouts but walked 29 batters in 48.1 innings. At the plate, he hit. 226 with no home runs in 71 at-bats. He was, though, player of the week on June 9 of that season, but minus Hanson's accolades he flew under the radar.
Not anymore. Reilly, 37, is in his 19th IBL season, and is poised to break league records many thought were untouchable.
Tonight in Hamilton at Bernie Arbour Stadium – Reilly's old haunt – Reilly went 5-for-5 (including three home runs) to surpass London Majors great Arden Eddie for second on the all-time hit list. Eddie had 765 hits; Reilly now has 768. Former Guelph Royals star Kevin Hinton retired with 790 hits.
With 144 lifetime home runs, Reilly is second only to former Panthers slugger Randy Curran, who retired with 154 round trips.
Kitchener beat Hamilton tonight 20-2. The Cardinals have put together a video collage of Reilly's hits – click here to view.
Reilly is making a serious run at the Triple Crown this year. He's leading in all three categories: .459, 11 HR, 36 RBI. Already this season, he has 45 hits.
In 2013, Reilly set the single-season home run record with 21 round trips.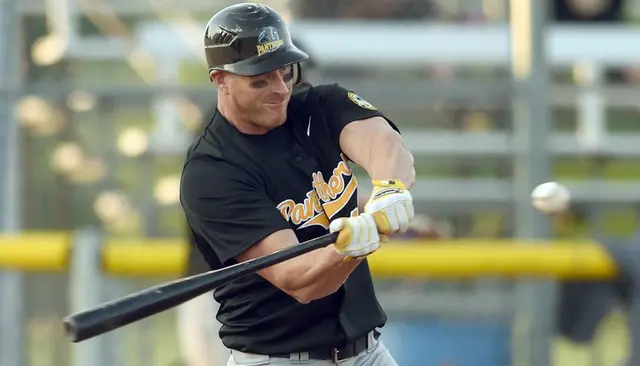 Reilly, a 6'3", 225-pound hitting machine, is also the Panthers' hitting coach. He was selected by Minnesota in the 29th round (800th overall) of the 1995 entry draft. Reilly was drafted out of Aldershot Secondary School in Burlington.
"In '97, I had just come back from the Twins organization," said Reilly, born in Hamilton and living in Guelph. "Jim Ridley (a former scout, player and national team coach then with Hamilton) contacted me, and asked if I wanted to come out. I remember we were practicing beside the old Lakeport Brewery. I said to myself, what the heck did I get myself into? I signed for all the hotdogs I could eat and a pitcher of beer. But I had some great times there – made some lifetime buddies."
The rest, as they say, is history. Reilly's IBL journey has seen him play for the Guelph Royals, the Barrie Baycats in 2011, the Royals again in 2012 before the club dealt him to the Leafs that season after he requested a trade, and finally to Kitchener in 2014.
"Sean has wanted to play in Kitchener for a while," said Panthers director at large Steve Scagnetti, Reilly's teammate with the Guelph Royals during their 2004 championship season. "When it was announced (in 2014) I was taking over (as coach and GM), he got in touch and said his contract was up in Toronto, and he was interested in joining forces again."
Playing in parts of three decades and one season shy of his 20th, Reilly still gets excited going to the ballpark. But it wasn't always that way.
"I came really close to retiring in 2007," Reilly said. "I hadn't had a summer off in a very long time. But I didn't retire, and since then I've trained really hard, got myself in great shape. And I have great support from the team and the fans. So it makes it fun to play."
A Sleeman Breweries employee, Reilly is studying and training to be a firefighter. He recently returned from Texas A&M University where he continued his studies.
"The process can be a slow and frustrating one," said Reilly, going through the hiring process with the Guelph Fire Department. "Hopefully the way I swing a bat will be indicative of how I'll swing an axe one day," he said, holding court during batting practice, and speaking of Eddie's many IBL records.
Don't expect Reilley to play well into his 50s, though, as did Eddie. No doubt he'll be in tip-top condition. But family time with his wife, Lauren, and a 3-year-old son, Aiden, ranks at the top of his list.
But there records to be broken, too.
"I've come this far, and I'm so close. I've talked to a number of friends. And I want to be here. But I don't want to break records just because I've been around so long," said Reilly. "What Eddie did was great – that's honourable. But I said to myself, if I don't break (the hits and home run records) by the time I'm 40, I'll retire.
"It's a great league. Look at the quality of ballplayers who continue to come through. There's a lot of history here, too," Reilly said. "I'm not getting any younger. I just want to win another championship. You take it for granted, thinking that chance is always going to be there."
Reilly likes the Panthers' chances at winning the IBL championship this year. "We're really good. Pitching has been our Achilles heel, like most of the teams. But we've solidified that, and our hitting should be near the top. There are probably four teams that have a shot. And anyone in this league can beat anyone else on any given day. Never count anybody out," said Reilly.
And don't count Reilly out from continuing to shatter IBL records.
–30–