Jeffrey Reed Throws First Pitch At Hamilton Cardinals Home Opener
FOR IMMEDIATE RELEASE
JEFFREY REED RETURNS TO BERNIE ARBOUR STADIUM SUNDAY,
DISABLED ATHLETE, FORMER LONDON MAJORS PITCHER RELIVES DREAM

May 4, 2016 (Hamilton, ONT) – Former London Majors pitcher and disabled athlete Jeffrey Reed returns to Hamilton's Bernie Arbour Memorial Stadium this Sunday, May 8 to throw out the first pitch at the Cardinals' home opener versus the Kitchener Panthers. Game time is 2 p.m.
Reed, 54, visits Bernie Arbour ballpark for the first time since July 25, 2001 when he threw a scoreless inning against the Intercounty Baseball League Cardinals. It will be an emotional visit for Reed and his family, thanks to his amazing story.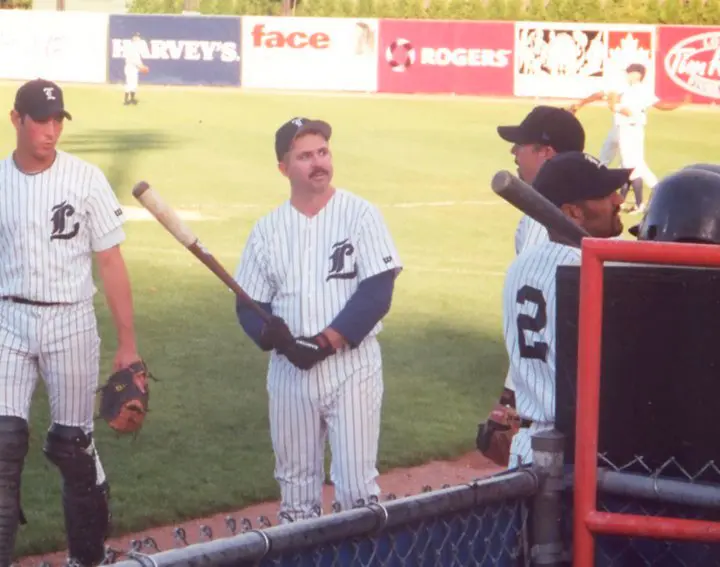 Living with numerous physical disabilities, including club feet, scoliosis, spina bifida occulta, plus neck and jaw deformities, Reed signed an IBL contract at age 39 and warmed up in the bullpen throughout most of the 2001 season with the Majors. Finally, in July 2001 he saw his life-long dream come true as he pitched in an IBL game.
Doctors gave Reed's parents little hope that he would even be able to walk in a normal manner, let alone play sports at any level – especially at the IBL level. Fifteen years ago, it was feared Reed would even need assistant walking by age 50. In 2003, he suffered a stroke – a transient ischemic attack (TIA). But today, despite his growing physical challenges, and thanks to healthy living, Reed is a golf teaching professional and a Wilson Golf Staff Advisory member.
"I am deeply thankful to the Hamilton Cardinals organization, particularly assistant GM Krystle Thompson, for allowing me and my family to return to Bernie Arbour, where it all happened 15 years ago," said Reed. "Still, to this day, accomplishing what I did in Hamilton in 2001 seems very surreal, and brings tears to my eyes. I am sure that Sunday will be a very emotional time for me and my family as we relive that moment."
Reed added, "In addition to my 2001 Majors teammates, many of the Cardinals players and coaches congratulated me and shook my hand following that memorable game. I've always respected the Cardinals organization for the class they've shown, and that they continue to show, and can't thank them enough."
In October 2015, Reed and his wife, Elizabeth, established the Jeffrey Reed Courage Award. Each year, beginning in 2016, a Southwestern Ontario athlete will be given a $1,000 cheque plus a commemorative plaque, recognizing the fact that they, too, inspire others with courage on and off the playing field. The athletes must nominate themselves through a 1,000-word essay on how they inspire others, never quit, give 100 per cent, work with mentors and mentor others.
Said Reed, "It's all about the power of hope – giving others hope through chasing your dream. The Courage Award now acts as a vehicle for letting many others tell their own stories of courage, in order to inspire anyone willing to listen."
The 2016 Jeffrey Reed Courage Award will be announced May 9. The winner will be honoured at a banquet on June 14 at Greenhills Golf Club in London.
Reed's story, Diamond Dream, is posted at http://www.jeffreyreedreporting.com/speaking.htm.
Tickets are available at Bernie Arbour Memorial Stadium Sunday. The first 100 moms get a flower courtesy of Jean's Flower Shop, to commemorate Mother's Day.
-30-