Part II: THE INTERVIEW Dave Simpson
THE INTERVIEW January 2017
Part II with Dave Simpson
Ed. Note: In this second part of our interview with former London Knights captain Dave Simpson, we pick where we left off in December as Simpson talks about his record-breaking 1981-82 season.
Read Part I of our interview here.
Jeffrey Reed, Editor, LondonOntarioSports.com.: Was there a point during that season when you said, something special is happening here. I have a chance to make history?
Dave Simpson: Yes, about halfway through the year. I made an adjustment. I was at Western in my second year, and most of the guys were at Laurier (Secondary School). I had skipped a grade in public school. My family was big on education, right? We were lucky to have the parents we did. So I was already in second year Western, which meant I didn't share a lot of stuff with the other guys because they were in Grade 10 at Laurier. So I was kind of on my own, and they were really good about leaving me alone.
Reed: I do remember interviewing you and your teammates back then, and there was an aura surrounding you on and off the ice.
Simpson: Branks would call it, Camp David
Reed: Fitting, given your interest in American politics.
Simpson: They would set up a spot in the bus so I could do my schoolwork. Camp David. But halfway through that season – so the second semester of school – I kind of switched it off and said, you know what? Let's see how far this hockey thing can go. And I didn't really concentrate as much on school. If I had to make a decision, I erred to the hockey, side to just see how far I could push it that year. I thought, no big deal. I'm going to school in the summer anyways. I always took summer school to get all these credits. So about halfway through the year I started to notice that I was in the Top 5 scoring. I went on a bit of a run, and the guys got a little excited about it, because you needed something to get excited about. We weren't a very good team.
Reed: So you became the team's rallying cry.

Simpson: I remember playing the Greyhounds in Sault Ste. Marie under coach Paul McIntosh. There was a guy that did nothing but follow me around the ice. He was going to be their guy to shut me down. So Paul says, 'We've got a plan here, Dave. You're going to play the first period.' And I said to him, well, of course I'm going to play the first period. I thought, what do you mean, sit me out during the second period? He says, 'No. I mean you're going to play the first period. I'll just keep rotating two wingers out for you. You're never coming off. We'll see if we can tire this guy out.' And I remember that because I made a comment to you earlier about I knew how to play 'junior' hockey, which is different than 'pro' hockey. You can take your spots, long shifts, and I was blessed with a good oxygen exchange. I was not a fast skater, as you may recall, but I could skate forever.
Reed: I do remember you being a very efficient skater, and having long shifts.
Simpson: I could keep going forever. I played that whole first period, and they didn't know what to do because this guy had to go off eventually. Sure enough, I ended up with a goal and two assists, or something like that. And then that's when it started to get everyone pumped: 'We can't stop him. He's on a roll. You can't stop this guy this year.' But I think I benefited from supportive teammates in an era when there was high scoring. There were way more mistakes made on the ice then than there are today. If you watch the Knights play with the puck, it's pro hockey. They don't make mistakes.
Reed: Everyone buys into a system. There is far less free-wheeling out there. And the players are in better shape – bigger, stronger, faster. But the ice is so crowded. You don't see the breakaways you or Dino Ciccarelli used to have.
Simpson: Yeah, I used to get breakaways every game! Big, strong defencemen in those days couldn't skate. Now big, strong defencemen skate better than the centremen used to skate.
"I was blessed with a good oxygen exchange. I was not a fast skater, as you may recall, but I could skate forever." – Dave Simpson.
Reed: Big, strong defencemen like former Knights defenceman Brad Marsh.

Simpson: (Laughing) Brad broke my nose in my first NHL hockey game, Philadelphia against New York Islanders. I had played with Brad when I was 14, coming up from Junior B. I came up to play some games, and I took the opening faceoff, and shot the puck in the end. I made the mistake of watching it a little bit too long – I thought, oh, that's a nice shot. Brad came up, crosschecked me across the nose, right on my back, and I'm lying there. My right winger was Bobby Nystrom, a very tough guy, and left winger was John Tonelli. They both jumped on Marsh, and there was a big brawl. This was back in the day. I remember being on the ice with a broken nose, thinking, there's got to be a better way to make a living, right? It's one of those things, and Brad and I chuckle about it because we've done charity events together. He always laughs about it. He says, 'I was just welcoming you to the league.' That's how they did it in the old days, right?
Reed: Well, I do know that as a rookie reporter at a college radio station, I had a lot of fun watching you set that points record. And by the way, I used to eat lunch in the cafeteria with your old Knights teammate, Steve Smith.
Simpson: I'll tell you this story. Branks used to set up a table for me on the bus. I may have a case study to prepare for, and we would be travelling to Peterborough, for example. Some people would say, 'You're not mentally preparing for the game.' And I always looked at it as, hey, I'm sitting on a bus. My teammates are playing their Rush music.
Reed: Rush. OK now we're showing our age, Dave.
Simpson: Yes. And we didn't have earphones in those days. We had these big ghettoblasters.
Reed: Now we're really showing our age.
Simpson: So I'm trying to do a business case on the bus while Rush is blasting. And by the way, Steve Smith was the one that loved Rush. I know because he would be cranking that at the back of the bus, and here I am trying to do a case study. So I learned how to separate things, compartmentalize, focus. To me, that's good training for life, learning how to balance these things. But some people would say, 'You're not thinking about the game.' Well, how is Steve thinking about the game by listening to Rush or reading magazines? But they all supported me. It was all very good.
Reed: Let's switch gears, and again talk about the modern game. I'll throw a name at you: Sidney Crosby.  Multiple concussions. No enforcers in the game today, and he plays a tough game – polar opposite of Wayne Gretzky. He's not afraid to mix it up. Mentally and physically very, very strong. Is that the reason he gets injured so often?
Simpson: Well, it has nothing to do with him not having a (Dave) Semenko to mop up for him. I mean, they tried to hit Gretzky all the time. But Wayne didn't put himself in the same positions as Sidney does, in order to be an effective player. Sidney's lower body strength is so strong. That's why he drives into corners like that. He's tenacious.  He's a little vicious. He reminds me more of Brian Trottier in his prime because Brian was relentless. He was as tough as anyone, pound-for-pound. Crosby goes into those situations full tilt. Most of his concussions are from interactions that are not full tilt. They're just odd things. But you wonder. It's a strange thing.
Reed: The equipment is much different today, too.
Simpson: If I hit you with my elbow pad from 1980, you'd think you got hit by a pillow. But if you get hit by an elbow pad today … so it's partly the equipment, partly the speed. And the other thing is, if you ask all of these players that are potentially signing up for class action lawsuits against the league for damage to their head if they would do anything differently, they would all say no. I never wore a helmet in practice. But we also had a little more respect. We carried our sticks differently than kids that grew up with face masks and helmets. The stick comes up quicker. But now even if your elbow comes out quicker, it's going to hurt more, whereas our equipment didn't hurt other people. Gretzky hardly even wore shoulder pads. They taped on these little things on the side. But to your point about Crosby, you can't tell another player to stop doing what they love to do, right? You can't tell Picasso to stop painting.
Reed: A quick comment, Dave, on more rights for OHL and CHL players. The CHL, umbrella organization representing the OHL, WHL and Quebec Major Junior Hockey League, says it's a development league for amateur student athletes. Yet there are teams making money. Should the London Knights players, for example, get a larger piece of the pie? Economics is your arena, so I'll let you take the ball on that one.

Simpson: Well, first of all the City should get a better deal, because it is not a good lease. But that's another issue. But yes, the Hunters are doing just fine … but it's interesting because that happened at the NHL level where owners sold jerseys with numbers that were emblematic of an individual doing well, yet Gordie Howe never got compensated for that. So that's where those union rules started to come in at the pro level. But let's use the London Knights as a case study.
Reed: We are at Ivey. I'm listening.
Simpson: They are a pro hockey team. There's no way around it.  They've even gone so far – and I give them credit for this – of establishing their own private school, because it was too hard to keep the kids in Saunders or Laurier, or wherever they could tutor. So they have a school program so they could pitch it to the parents. But do the players 'deserve' more? Well, to me, 'deserve' isn't the word. My dad always said, 'Lord, give me anything but what I deserve.' So to me, it's more about if the mathematics are such that the profit from your team is so tied to the individual players generating that profit, whether it's the entertainment value, or the community involvement. They're sending these kids out doing things that I did – but not many others did. But I am from London. There weren't many players from London at the time. I would go talk at a school, for example. Today, that type of thing is not the exception. It's part of the plan. They go visit car dealerships, and high schools. They're community involved, so we're using them. But it's not optional.
Reed: They're employees doing volunteer work.
Simpson: The Knights as an organization have made a deal with various community sponsors that say, we'll bring all these kids to you. But as soon as you cross the line to say you're telling a kid not to go to school today because we have a presentation that we're doing, and you've got to do it for our community service, then I think something should flow back to the kids. You could say, well, some of it does flow back. And the kids have a chance to mature and grow through experiences. I say OK, but when I played for the Knights and lived at home, I got $25 a week and my mom got room and board because she was effectively my billet. She put that into a little travel fund. I remember she kept that so that she could then go to games and things later when we were pro. But there wasn't money in our day.
" … as soon as you cross the line to say you're telling a kid not to go to school today because we have a presentation that we're doing, and you've got to do it for our community service, then I think something should flow back to the kids." – Dave Simpson
Reed: That applied to most players. But you, again, were the exception, having signed with the Islanders.
Simpson: I was getting paid for two years because I got drafted at 18 when the rules changed my first year. Gretzky had signed with the WHA, so they lowered the age from 23 to 18. That was my draft year, at the end of my first full season with the Knights. (Knights teammate) Wayne Thompson and those guys were still waiting to be drafted, and here I was, the 18 year old, signed to a contract. I made more money than my dad who was a professor here at Western. I got paid for two years while in London. I was New York's property at the time.
Reed: And now we see NHL teams keep such a close eye on OHL players. Nothing is left to chance.

Simpson: If you look at the Knights, last year they had a lot of potential first-rounders that hadn't signed. But probably 10 out of the 20 already had contracts, because they were drafted at 18.  So to me, if they're property of someone else, that complicates it even further: why should the Knights pay you, if you're owned by the Islanders?
Reed: It's not a simple equation here.
Simpson:  No. And the problem is everyone is not in the same league. The Knights drawing 9,000 fans is very different than, say, Barrie or Guelph.
Reed: With the way the Hunters have organized their franchise, it closely emulates an NHL team in terms of structure.
Simpson: Well, in terms of pitching for free agents among American kids, that's exactly what you're selling: a one-and-done year. Come to a real 80-game experience, like a pro. You're going to be watched by everybody. This is your best chance, right?
Reed: It goes without saying, this is the top junior hockey hotbed in Canada. Everyone wants to play here, if they're good enough. I mean, we couldn't be any further than the 3-60-3 team under the Doug Tarry regime.
Simpson: Oh, gosh, at the old barn. Yeah, they had a bad time.  But it was a choice.
Reed: Let's wrap up about you teaching here at Ivey. I mean, could anyone have created a better job for you, lecturing on entrepreneurship and family business? And then there's the hockey element you bring to the table – teamwork, responsibility on and off the ice, the whole package.
Simpson: I teach entrepreneurial finance, so deal-making. As my wife says, she is stunned that they pay me to talk about business. She says, 'You love talking about business.' We do everything by case study here at Ivey. Half of them are about companies I bought. I've very open and transparent about all my experiences, good and bad, because as I say, an entrepreneur doesn't have failures. They have learning experiences, right? Some of them cost more than others. We all learn from things, and so I offer lots of stories. But in hockey, occasionally it has come up when things like the Memorial Cup come to London and I start getting asked to do things, and then people here notice.
"I've very open and transparent about all my experiences, good and bad, because as I say, an entrepreneur doesn't have failures. They have learning experiences, right?" – Dave Simpson
Reed: Let's get the readers caught up on the Simpson family tree.
Simpson: So my wife, Diana, is a recently-retired Civil Engineer Professor at Western, and we have three girls who also went to Oakridge, and played with the Forest City Volleyball club. Ariana, 23, did joint Kinesiology and Ivey Business School HBA degree, played varsity volleyball for Western, has worked for Maple Leaf Sports and Entertainment in the summer between Ivey Years 1 and 2, and she recently worked with the World Cup of Hockey. She's now at Telus head office in Toronto. Elena, 20, went to Colgate University in New York State, played NCAA Division 1 volleyball and now is at Ivey Business School. Corina, 17 is in Grade 12 at Oakridge, plays school basketball, volleyball, badminton and track, as well as Forest City Volleyball, and London Devilettes Hockey.
Reed: The Simpson family traditions continue.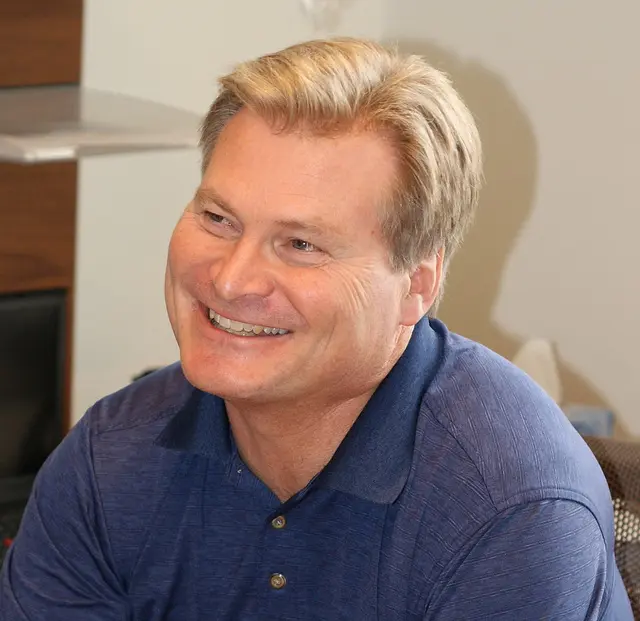 Simpson: Yes. And you know, Ariana worked for Brendan Shanahan, a fellow Knights alumnus, so they had some good chats. She looks just like Aunt Chris, so many think she is her daughter when they're out doing things. She's right down by the Air Canada Centre, where the Telus Building is.
Reed: Do you still lace on the skates?
Simpson: For the faculty team at Western. There's a tournament every year in Guelph. U. of T., Lakehead, Waterloo, a whole bunch come.  And so they always ask me to come. The last year I played, we won the tournament, and I scored a lot of goals. I said to the guys, I can't play anymore.  And they said to me, 'What do you mean? You can play!' But I said, no, you don't understand. Yes, I can play relative to you guys. But when my mind is telling me what to do and my body won't do it, it's really frustrating. My body can't do it anymore. Last year, I had my fourth knee surgery. I've had two on both sides now, and they're nicely lined up. I can't run any more but they don't hurt for golf and walking. I was really limping, so I just said, I'm not playing hockey and I'm not running, but for the rest of my life I want to golf.
Reed: That's about the only similarity you and I have in terms of sports, Dave. Golf is the thing now.
Simpson: Yes, and I feel very good right now. I'm in decent shape. I don't hurt. So this is my last year on skates, because I'm coaching my daughter's team one last time. They're in Grade 12. So when they're done, I'm done. And I threw away all my equipment, except I have my old Knights gloves. I have green gloves, and I have a pair of skates. I kept a couple of old wooden sticks, so I have that nostalgia for my kids.

Reed: What about all of your hardware – the magical 1981-82 season? Are you a trophy guy?
Simpson: Well, funny you should ask. Everything was at my mom's house.  We sold the family home in January.  She wanted to move to a retirement home. I think she knew she's really gone downhill lately. She's 82 but has accelerating memory loss. So I called my buddy, (realtor) George Georgopoulos. He started holding open houses, and people were coming just to look at stuff. And he was a little worried, because I had diamond rings out there, and there were Stanley Cup pictures, plus all of my OHL trophies everywhere. And it was quite nice looking, he said. So it gave a little, you know, panache to the open house. George said people brought friends and they were looking at all the stuff.
Reed: Sounds like Walter Gretzky's Brantford home.
Simpson: When we sold it, mom took some things that she wanted, and I said to my kids, just throw all of these things out. It was funny, because my kids were shocked.
Reed: Why would you want to throw out those reminders of the greatest year in junior hockey history?
Simpson: I just said, throw it out. My kids said, 'No! We have to keep this stuff.' And I said, just as I said to you during our conversation, it's just not me. I don't need this stuff.  But they said, 'Dad, this stuff is incredible. You've got to bring it home.' I said, then you guys have this problem now because you'll have to take it home. They said, 'We'll take care of it, dad.' So we put it all on a shelf in the basement. But truth be told, it's not important to me.
Reed: Well, you've written a book, Work Hard, Have Fun & Keep Smiling: A Guide for Hockey Parents and Volunteer Coaches. So those things are important to you, and that's what counts in the end. You offer some great tips, stories, lessons and advice. And I know deep down you cherish your hockey days, especially with the Knights in the early-1980s. So thanks for spending time reminiscing with me about a time that was special to both of us.
Simpson: My pleasure, Jeff.
-30-