News Release: Jeffrey Reed Courage Award
FOR IMMEDIATE RELEASE
LONDONONTARIOSPORTS.COM ANNOUNCES JEFFREY REED COURAGE AWARD
ANNUAL AWARD PRESENTS PLAQUE, $1,000 TO SOUTHWESTERN ONTARIO ATHLETE
October 1, 2015 (London, ONT) – Jeffrey and Elizabeth Reed of LondonOntarioSports.com today announce the establishment of the Jeffrey Reed Courage Award. Beginning in June 2016, and each June thereafter, a Southwestern Ontario athlete will receive a $1,000 cheque to assist with his or her future endeavours on and off the playing field, and a plaque recognizing courage in sports and in life.
All details about the Jeffrey Reed Courage Award, and the nomination process, are available by visiting this page – click here.
Jeffrey Reed, 53, is publisher and editor of LondonOntarioSports.com (est. February 2015), and a 35-year member of the London sports media. A disabled athlete, Reed achieved what many thought was impossible: in 2001, despite numerous physical challenges – and as a 39-year-old third base coach – he pitched as a rookie for the London Majors of the semi-professional Intercounty Baseball League. His story, Diamond Dream: Jeffrey Reed's Inspirational Story of Hope and Determination, recounts his journey – read it here .
Through the Jeffrey Reed Courage Award, Jeffrey and Elizabeth Reed are establishing their legacy – to allow countless other athletes to tell their stories in order to inspire others.
"Life's achievements aren't complete without giving back and mentoring others. Through the Jeffrey Reed Courage Award, I can use my story to inspire others to dream big and never stop dreaming; work with mentors and mentor others; give 100 per cent at all times; and never quit," said Reed.
"Everyone has a story to tell, and everyone can inspire others," Reed added. "At first, I didn't share my story because I knew there were others facing bigger challenges. But after a speaking engagement, where I told my story as a disabled athlete, a double lung transplant recipient said to me, 'Your story inspired me.' I cried when I heard that, and knew that I had to continue to tell my story in order to offer hope. Hope is a powerful thing. We must all be dreamers. Dreaming inspires us to achieve greatness."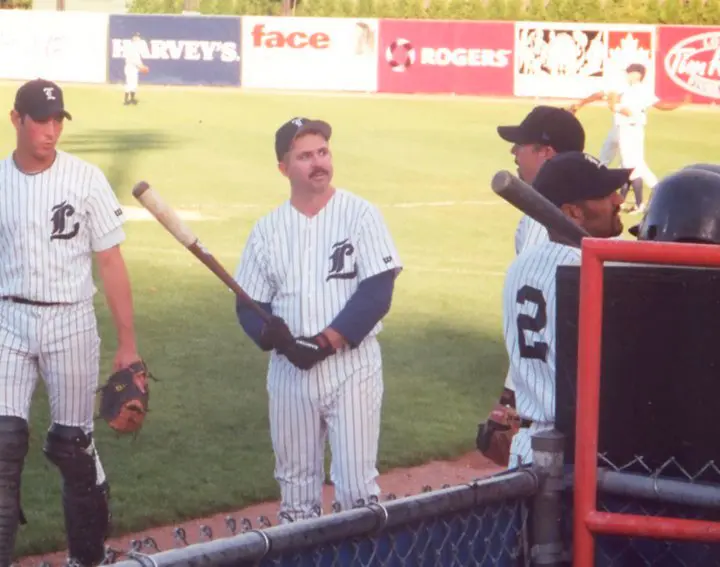 An underdog, Reed beat the odds both as an elite athlete, and as an entrepreneur in the competitive industry of journalism. A six-time award winner for writing excellence, Reed lives with numerous spinal deformities, yet he was a high school athlete with the Montcalm Cougars; played competitive baseball for decades; lived his dream when he pitched for the London Majors; and today plays to a low-handicap index as a golfer representing the Wilson Staff brand.
In 2010, Reed hit golf balls for eight straight hours to raise money for the London Anti-Bullying Coalition. Today, he is an ambassador for the Heart & Stroke Foundation of Canada. Reed is a stroke survivor; in 2003, he suffered a Transient Ischemic Attack (TIA).
In addition, in 2011, Reed borrowed a page from sportswriter George Plimpton, and wrote a series of first-person articles for, The Londoner (Sun Media), under the banner, Out Of My League. His experiences saw him, for example, play tackle football with the CCH Crusaders, scrimmage with the National Basketball League of Canada champion London Lightning, and even cheer with the national champion Western Mustangs cheerleading squad – on national TV during the Yates Cup, no less.
"The Jeffrey Reed Courage Award will allow me and each of our award recipients to perpetually inspire countless others with our stories of chasing dreams, never quitting and reaching goals," Reed said.
Nominations are now open for the Jeffrey Reed Courage Award, and close at 12 midnight on April 30, 2016. An award ceremony and luncheon will be held each June – Stroke Awareness Month.
Attention Media: A formal announcement of the Jeffrey Reed Courage Award will be made at the LondonOntarioSports.com launch party, Saturday, October 3 at 7 p.m. at Greenhills Golf Club in Lambeth. Members of the local sports community are invited. RSVP elizabeth@londonontariosports.com. Food and beverages provided.
–30–
For more information, and for a high-resolution image of the Jeffrey Reed Courage Award logo, or a high-res image of Jeffrey Reed, please contact:
Jeffrey Reed  519/643-6334  jeff@londonontariosports.com
About The Jeffrey Reed Courage Award
Est. October 2015, the Jeffrey Reed Courage Award recognizes one Southwestern Ontario Athlete on an annual basis for his or her courage on and off the playing field. Each athlete must nominate themselves, and must write a 1,000-word essay including information on their challenges, how they tackled them, how they achieved their goals, and how they inspired others. LondonOntarioSports.com will award the winner with a $1,000 cheque plus a plaque at an annual luncheon ceremony.
About LondonOntarioSports.com
Est. February 2015, LondonOntarioSports.com is a project from publisher and editor Jeffrey Reed, a long-time member of the London sports media. LondonOntarioSports.com is a complete source of local sports news, scores, information and feature stories. It includes every sports and leisure activity in London – from the London Knights and Western Mustangs, to roller derby, and everything in between.