Courage Award Allows Athletes To Inspire Others
by Jeffrey Reed, Editor, LondonOntarioSports.com
There are many definitions for the word, courage, including, "mental or moral strength to venture, persevere and withstand danger, fear or difficulty."
As a disabled athlete, I've never thought of myself as courageous, no matter what challenge has stood in the way of seeing a dream come true. Certainly, despite the fact I have achieved in sports what many have defined as impossible, I have always considered the monumental achievements of others as more inspirational than my own.
Now, thanks to the newly-established, Jeffrey Reed Courage Award, I am able to formally recognize those who have demonstrated courage on the playing field.
My wife, Beth, and I have created the Courage Award to stand as our legacy. Beginning in 2016, and awarded each June, this award will provide a perpetual vehicle for inspiring others through great achievements in sports.
My story hasn't hit the big screen, as has the story of Daniel "Rudy" Ruettiger, who defied the odds and played football for the University of Notre Dame. Nor does my story come close to echoing the importance of Lou Gehrig's in the movie, The Pride of the Yankees. But when I think about the journey I have taken, a day does not go by without a tear running down my cheek. I'm proud of that. And I am also proud that through my public speaking, I am able to inspire others to achieve greatness.
At birth, doctors discovered I had club feet, and said I would never play sports, let alone walk properly. I was fitted with a large cast, and later wore shoes similar to those worn by Tom Hanks in the movie, Forrest Gump. But my first word was, ball – and since then I haven't stopped playing sports.
As a grade schooler at St. Anne's in London, I played just about every sport but hockey and excelled at baseball, and track and field. During high school, I continued my baseball career, and ran cross country for the Montcalm Cougars.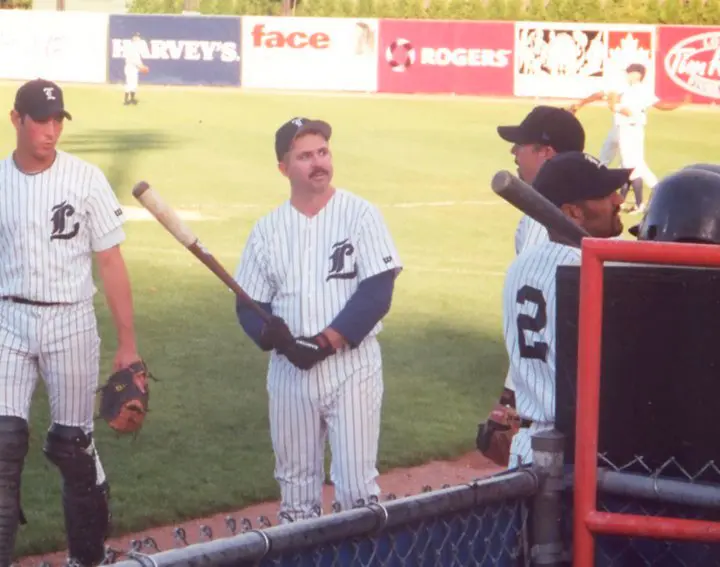 For many years, I had experienced severe pain from head to foot, but it wasn't until later in life that doctors discovered I not only had Spina Bifida Occulta, and scoliosis, but also numerous skeletal deformities including jaw, neck, pelvis, leg, knee and ankle abnormalities. Those diagnoses explained a lot about the daily pain I endured – and still do to this day. I have good days and bad (today is a good day) but living life to its fullest means I spend a lot of time visiting health care professionals on a regular basis.
In 2000 and 2001, I did what most others said was impossible: I suited up for the London Majors of the Intercounty Baseball League. I coached third base, spent eight hours at Labatt Park during home games – soaking in every moment of it – and in 2001, as a 39-year-old rookie, pitched a scoreless inning at Bernie Arbour Stadium in Hamilton. My teammate, Majors legend Arden Eddie, presented me with the game ball and it sits on my desk as I write.
Today, despite growing physical challenges, I am an ambassador for Wilson Golf and play to a low handicap index. In 2010, I hit golf balls for eight straight hours to raise money for the London Anti-Bullying Coalition.
In 2011, I wrote a series of articles for The Londoner under the banner, Out Of My League. Borrowing a page from writer George Plimpton, I put myself in real-life situations, for example playing tackle football during a practice with the CCH Crusaders, and even cheering with the Western Mustangs Cheerleaders during a live telecast of the Yates Cup.
My complete story, Diamond Dream, is available here.
I've never been more proud of anything in my life than I am of the Jeffrey Reed Courage Award. Now, others have a great opportunity to tell their own stories. Complete nomination criteria is posted at LondonOntarioSports.com. Each athlete must write their own 1,000-word essay on how they have beaten the odds and have inspired others with their accomplishments.
LondonOntarioSports.com will award the Courage Award winner with $1,000 for their athletic and/or academic future, and a commemorative plaque at an annual luncheon. Award nomination rules are listed here.
I can't wait for them to tell their stories, and I hope you are inspired.